The Department of Arts, Culture and Media invites you to the fourth Music Matters event of  the 2018/2019 Lecture Series. In collaboration with this years KIEM project, this talk will be on the topic of sound and gendered performances in popular music.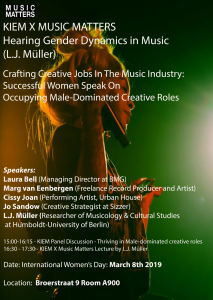 "Hearing Gender Dynamics in Music? Feminist Approaches to Popular Music Analysis"
Time: 16:30 – 17:30
Location: Broerstraat 9, room A901
Free of admission – No registration required
ABSTRACT
15:00 – 16:15
» KIEM Panel discussion – Thriving in male-dominated creative roles
When considering the gender disparity in the music industry, women are not only underrepresented in overall numbers, but a pernicious dynamic persists where particular roles appear segregated by sex. Within both Romantic arts traditions as well as within the rockist ideology, The "artist" as archetype is often conceived of as masculine. At best, women are understood as capable of exhibiting good taste and proficient as crafts persons, but not as artists. This may explain why women are often occupying roles in administrative and marketing positions and are underrepresented in creative roles such as A&R, producing music, composers, or as performing artists. We have invited women who occupy such roles, in order to talk about their experiences in this male dominated world. How do they cope with biased evaluations on their creative work, what gender barriers do they encounter and how can they thrive and succeed in their jobs?
For more information in the KIEM: CLICK HERE
16:30 – 17:30
» KIEM x Music Matters Lecture with L.J. Müller: 'Hearing Feminist Interventions in Popular Music.
Feminist musicologists have long struggled with normative analytical methods and seemingly neutral music conceptions that tend to exclude bodies and feelings (e.g. Cusick, McClary). Even further, feminist epistemologies, like Donna Haraway's situated knowledge, draw into question traditional conceptions of music as objects of study. Eventually with the expansion of popular music studies, theorists found it necessary to widen established perspectives and conceptions of music, to forge models which focus more on relations between subjects and sounds (e.g. DeNora, Shepherd/Wicke, Wicke). Yet still conceptions related to gender alongside wide-spread examples of sexism seem difficult to grasp when considering the more ephemeral qualities of sound. Therefore, from a feminist standpoint, the question arises whether normative conceptions of music and analytical methods might still tend to veil aspects of music that are relevant for the reproduction of gendered inequalities.
In my presentation, I first pose questions about the (possible) aims of music analysis and then deliver a feminist critique of normative conceptions. Inspired by a feminist approach, I'll discuss some alternatives and propose new ways of hearing gender and sexist dynamics in the sound through representative examples of popular music. With these examples, I argue that a male gaze and performative gender production continually takes place in music and can be meaningfully discussed not only through socio-cultural contexts but also within forms of music analysis. I not only hope to broaden the understanding of the cultural re-/production of sexist dynamics embedded in sound, but also to increase reflexivity about music-analytical tools and to motivate creativity in the finding of alternatives.
BIO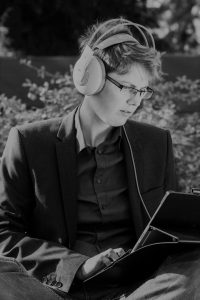 L. J. Müller finished her* studies in musicology and cultural studies at Humboldt-University of Berlin in 2014. In 2016 she* received the Maria Hanáček price from the German-speaking section of the International Association for the Study of Popular Music (IASPM D-A-CH) for the best presentation of a young researcher at the biennal IASPM D-A-CH conference. In 2018 she* published a book based on her*  M.A.-thesis named "Sound und Sexismus – Geschlecht im Klag populärer Musik. Eine feministisch-musiktheoretische Annäherung". At present she* works on a PhD on the sound of gendered performances in popular music, where she* is interested in the sonic aspects of sexuality, desires, and discrimination.