The Department of Arts, Culture and Media invites you to the fourth Music Matters event of  the 2018/2019 Lecture Series. In collaboration with this years KIEM project, this talk will be on the topic of sound and gendered performances in popular music.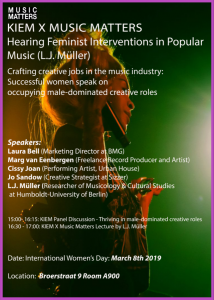 "Hearing Feminist Interventions in Popular Music"
Time: 16:30 – 17:30
Location: Broerstraat 9, room A901
Free of admission – No registration required
ABSTRACT
BIO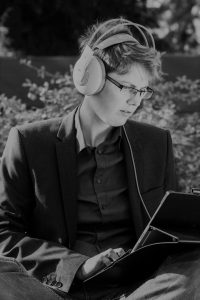 L. J. Müller finished her* studies in musicology and cultural studies at Humboldt-University of Berlin in 2014. In 2016 she* received the Maria Hanáček price from the German-speaking section of the International Association for the Study of Popular Music (IASPM D-A-CH) for the best presentation of a young researcher at the biennal IASPM D-A-CH conference. In 2018 she* published a book based on her*  M.A.-thesis named "Sound und Sexismus – Geschlecht im Klag populärer Musik. Eine feministisch-musiktheoretische Annäherung". At present she* works on a PhD on the sound of gendered performances in popular music, where she* is interested in the sonic aspects of sexuality, desires, and discrimination.