The Department of Arts, Culture & Media is proud to host a lecture by Gayle Young on the theme of "Building an Interdisciplinary Life in the Sonic Arts".
Friday, February 17th, 2017 [14:30-15:30]
Harmony Building, Room 13.14.0014 (onder de bogen) / Oude Kijk in Het Jatstraat 26, Groningen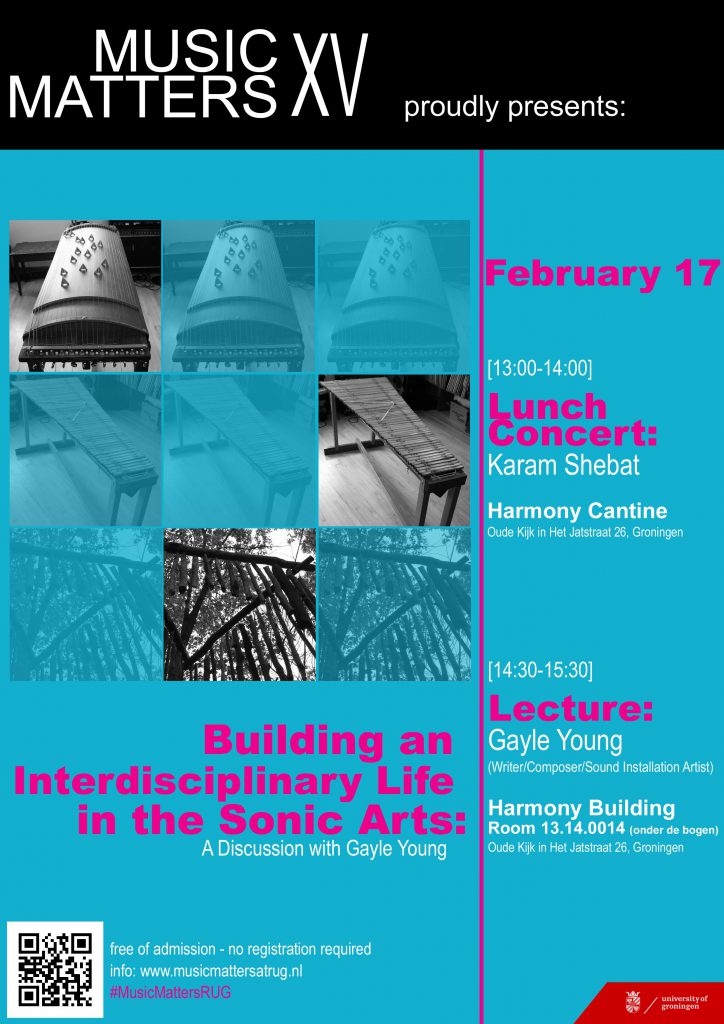 The first edition of Music Matters 2017 also offers a Lunch Concert with the singer/songwriter Karam Shebat, a fine singer blending European and Syrian traditions, formerly featured in both the Arab Idol and The Voice of Holland competitions.
Concert: Friday, February 17th [13:00-14:00] at Harmony Cantine.
Building an Interdisciplinary Life in the Sonic Arts: A Discussion with Writer/Editor/Instrument-Builder/Composer/Performer/Sound Installation Artist Gayle Young
Gayle Young describes the design and construction of new instruments and sound installations using inexpensive industrial materials and found objects. Her sound installations and compositions place those materials in new contexts and invite public participation through an exploratory approach to sound. Young presents pre-recorded environmental sound such as train horns and ocean waves in unfamiliar and artificial auditory frameworks, so that listeners hear them from new perspectives. Taking a similar approach to text and vocal sounds she brings attention their acoustical characteristics.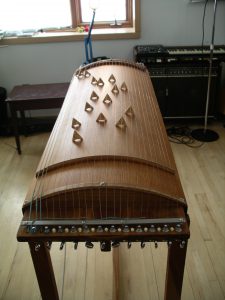 Instrument with 24 strings, the Amaranth.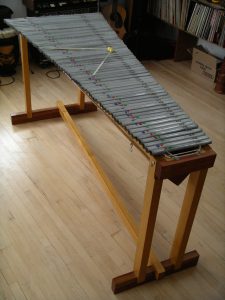 Metal percussion instrument, the Columbine.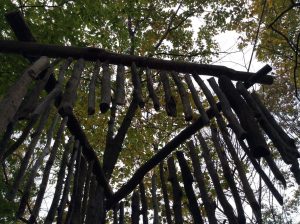 An outdoor installation, title is Castorimba.
Young will also discuss the long-term implications of publishing projects based on oral history, from her biography of Hugh Le Caine, a key innovator in electronic music, to interviews with composers published while she was editor of Musicworks Magazine.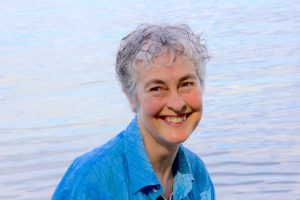 Bio
Gayle Young studied contemporary music with David Rosenboom, Richard Teitelbaum, and James Tenney at Toronto's York University, 1974-1977, and was soon presenting concerts as composer and performer of microtonal music on acoustic instruments of her own design, both stringed and percussion. Young has created several sound installation works, the most recent being Castorimba Suspended, in which over a hundred resonant sticks chewed by beavers are suspended from trees so that visitors can play them. She also composes for orchestral and electronic instruments, and pre-recorded soundscapes. In March 2016 her composition "Departures" was premiered in New York by the ten violists of the Flexible Orchestra. On Feb 13th her piano work "As Trees Grow" will be premiered by Xenai Pestova at Café Oto in London. She will be a guest composer in Den Haag Feb 20-24, where she will speak about her music and attend rehearsals for a concert of her compositions.
Young has written extensively on contemporary music and sound arts. The Sackbut Blues, her biography of Hugh Le Caine (1914-1977), Canadian inventor of electronic music instruments, describes interconnections among physics, acoustics and music from a mid-twentieth century perspective. Young is the publisher (and former editor) of Musicworks Magazine. Her compositions have been broadcast and performed internationally; she has received numerous awards and commissions, most recently a prestigious fellowship with Civitella Ranieri Foundation, for a six-week residence in Italy, 2014, where she completed As Trees Grow, for piano and optional electronics.  While resident in Duntara in Newfoundland in 2016 Young recorded the interactions of water and shoreline using two hydrophones, identifying patterns of underwater pitch and rhythm that will contribute to new compositions.