The Department of Arts, Culture and Media invites you to the second Music Matters event of  the 2018/2019 Lecture Series. This talk will be on the topic of experimental jazz vocal techniques on Tuesday 13th of November.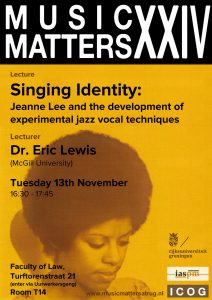 At 16:30 we host Dr. Eric Lewis (McGill University) for a lecture on the topic of:
'Singing Identity: Jeanne Lee and the development of experimental jazz vocal techniques'.
Website: www.musicmattersatrug.nl
Time: 16:30 – 17:45
Place:Faculty of Law, Turftorenstraat 21 (entrance via Uurwerkersgang), Room T14
Free of admission – No registration required
ABSTRACT
Jeanne Lee, up until her untimely death in 2000, developed a sophisticated vocal technique whose influence has yet to be noted.  We will survey the development of her vocal stylings, and see how they discharged not only musical functions, but played a role in her life-long acts of identity construction, both personal and pertaining to African American women more generally.  The Lee that will emerge was a pioneer not only of new vocal methods, but of important strands of political thought and action.  We will see how the two are interconnected, and explore ways more generally that identity can be constructed and contested in performance.
BIO
Eric Lewis is a professor of Philosophy at McGill Univ. in Montreal, Canada, where he is also the director of the Laboratory of Urban Culture, and the site coordinator for the International Institute for Critical Studies in Improvisation.  His research focuses on the philosophy of improvisatory arts, in particular the ways in which questions aesthetic, ontological and political intertwine.  He is the author of Improvisation and Social Aesthetics: The Video Art of Sylvia Safdie; and, Intents and Purposes: Philosophy and the Aesthetics of Improvisation (Univ. of Michigan Press, 2019).  He is presently researching a book on Jeanne Lee and  identity construction via improvised performance.  He is an active improviser on brass and electronics, and run numerous community-facing programs using improvised arts to contribute to community health.