The Department of Arts, Culture and Media in combination with the NWO KIEM invites you to the first Music Matters event of  the 2018/2019 Lecture Series. This first workshop explores the topic of Gender Quotas in Music Festival Programmes on Friday 21st September.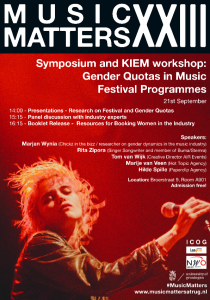 Website: www.musicmattersatrug.nl
Time: 13:00 – 16:30
Place: Broerstraat 9, Room A901 (Archaeology Faculty)
Free of admission – No registration required
ABSTRACT
Recent debates concerning women in the music industry circulated widely in the media with well–cited statements by international pop stars like Beyoncé and Bjork. These were later addressed by the industry itself leading finally to questions concerning gender inequality throughout the music industries and the related under representation of women artists on festival programs. While many believe that there are simply far too few women acts in current events, advocates of gender quotas believe that promoters require external pressure to book more female artists in order to ensure fair and inclusive programming practices.
On Friday the 21st of September, the University of Groningen, in collaboration with ICOG and IASPM Benelux, will hold a symposium funded by the NWO KIEM project to research "Gender Dynamics in the Dutch Music Industries". During this first workshop of a 4-part, year-long series of workshops and discussions, the gender relations in music festival programs will be examined and discussed with professionals from the industry and academics engaged with gender research in popular music. Students will present their research and industry professionals will offer insight into what goes on behind the scenes of the music business. Further, together we will explore how current booking practices influence the broader gender dynamics within Dutch society. Ultimately, we will pose the question if gender quotas may be the solution to breaking down gender barriers in festival line-ups, setting a powerful and symbolic message to other labour fields.
PROGRAMM
[13:00] Lunch with speakers and panelists
[14:00] Presentation by Dr. Kristin McGee: 'What do we know about gender dynamics in live music performance contexts?'
[14:30] Presentation by Marja Wynia  on 'The significance of networking in music'
[15:00] Coffee Break
[15:15] Panel discussion with booking agents
[16:15] Presentation on booklet for resources on booking women in the music industry
PANEL OF INDUSTRY PROFESSIONALS
Marije van Veen After 4 years of co-ownership of Lexicon bookings, booking agent Marije van Veen decided to start go in a new direction and founded Hot Topic, a brand-new Dutch booking agency for artists who step off the beaten path and can't be categorized in one clear genre. Hot Topic aims to address new artistic genres and strives for a more inclusive, equal and avant-garde  and artistic milieu. Her roster consists of Dutch artists such as Afterpartees, San Dollar and bands abroad like Priests, Flying Horseman and Emma Ruth Rundle. 
Singer songwriter Rita Zipora is Busy a with a capital B. Recently she has released the first EP of her album 'Wolken', a collection of electronic pop songs, in cooperation with poet and singer songwriter Robin Block. She has graduated at the Amsterdam Conservatory and written her master thesis on musical copy right in the digital domain. Zipora is also on the board of BAM, Beroepsvereniging Auteur-Muzikanten and member of Buma/Stemra's Raad van Rechthebbenden. As a member of Buma/Stemra's task force on gender equality she will shed light on Buma/Stemra's research on women music creators.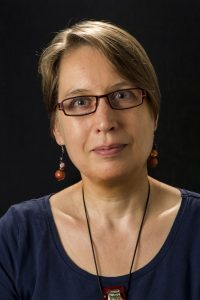 Hilde Spille – in 1988, after a studie with BA in theology and philosophy in Frankfurt a.M. (Germany), Hilde came in 1988 to the Netherlands to study feminist theology. Within a few month she switched her study to psychology and stayed in the Netherlands. With her MA in cultural psychology, she started in 1995 to work at Paperclip Agency. She books shows and tours for artists from all over the world, as their European agent or as Dutch booker, amongst them are Pussy Riot, I Muvrini, Balkan Beat Box, Sass Jordan and many more.
Since 2002 Hilde works as talent buyer for Conincx Pop Festival in Elsloo (Lb.)/NLD. In 2012 Hilde started her blog Compass for Creatives to address the mental challenges that musicians encounter. In this, she can combine her knowledge of psychology with her experience in the international live music industry. Now she's been asked as guest lecturer on a regular basis. She also offers individual coaching and mental training to musicians. After the #MeToo campaign, Hilde developed a mental training in 'Mental Self Defence" for musicians.
Throughout his career, Tom van Wijk (1985) has been your go-to person for the best club and festival line ups as Tom has an eye for musical talent and the hot and happening musical genres. Fifteen years ago, Tom began his professional career set up his own event production company and started organizing electronic music events across the Netherlands. Soon after this successful start, he also included booking agency Alter Music to his business. In 2005 he joined leading club and festival promoter CHemistry as a producer and communications manager. In 2010 club AIR opened his doors with Tom being responsible for all things creative as Head of Music. Soon he got promoted to be Creative Director of AIR Events at ID&T, one of the key festival players in the Netherlands with festivals such as Amsterdam Open Air, Valhalla, Fiesta Macumba and Milkshake Festival
RESEARCHERS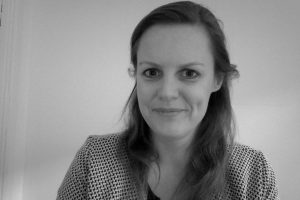 Marjan Wynia has worked as a marketing & communications manager in the creative industries for many years. For over a decade, she has worked for the GRAP foundation, an organisation dedicated to helping talented music artists starting their careers. She was responsible for the marketing of Muzikantendag, Amsterdams Bevrijdingsfestival, Amsterdamse Popprijs and many more. She has written an online guide to the music industry (Muzikantendag Academy) and edited De Waarde van Pop. She is also one of the co-founders of female network organisation Chicks in the Bizz. Recently she started as a freelance copy writer and next to that she is researching the gender dynamics in the music industry.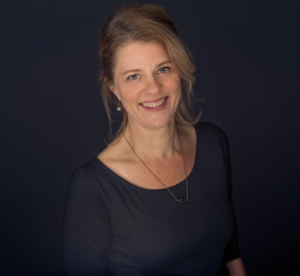 Kristin McGee is Associate Professor of Popular Music and Jazz at the University of Groningen in the Netherlands. She is the current chair of the Benelux region of IASPM. She has written on the subject of jazz, gender and media for her 2009 monograph Some Liked It Hot: Jazz Women in Film and Television (Wesleyan). This presentation is part of her upcoming publicationRemixing European Jazz Culture as part of Routledge's Transnational Jazz Series.
Since 2013, female popular music stars have gained visibility and prominence in the international music industry, often ranking at the top of international charts. However, behind the performance stage, women are gravely underrepresented. In fact, women 'behind the scenes' occupy less than 15% of paid positions internationally (Leonard 2014). For over a century, labor positions have been consistently segmented by gender. This disparity appears rooted in specific industrial demands and is accentuated by a predominantly masculine discourse, but due to a lack of data, such gender processes are not yet fully understood (Leonard 2014). Therefore, this study investigates the socio-cultural practices disadvantaging women working behind the scenes within the Dutch music industry. By integrating sociological approaches, feminist and gender frameworks, and cultural theories, new insights gained aim to support the important debate on how to address this gender gap and further how to approach this societal challenge. A more comprehensive perspective on the institutions, social practices, and cultural beliefs which perpetuate such gender inequality in the music business will be followed by an investigation of how women can rather excel in their jobs in ways both benefiting the industry as well as culture and society more generally. Labor inequality prohibits human empowerment and is a waste of talent and capital. As the music industry is an agent of change (Lee 2013), endowed with a symbolic and exemplary role, understanding its gender disparity is critical for providing answers to the challenges of our globalizing, post-industrial information age. Funding organization: NWO – KIEM (Creative Industry – Knowledge Industry Mapping)