The Groningen University Fund, the Department of Arts, Culture and Media, the Center for Gender Studies and ICOG are proud to host a Workshop and Encounter on Gender Dynamics in the Music Industry followed by a lecture by Dr. Robin James (University of North Carolina at Charlotte / Women's & Gender Studies).
Friday, June 23rd, 2017 [14:00-18:00]
Academy Building, Heymanszaal / Broerstraat 5, Groningen
Program:
[14:00-15:45] Workshop with professionals from the music industry (the first hour is an interactive workshop followed by 45 minutes of panel discussion with three or four professionals from the music industry)
[15:45-16:00] Short break
[16:00-17:00] Keynote Lecture by Robin James
[17:00-18:00] Concert Cistem Failure + drinks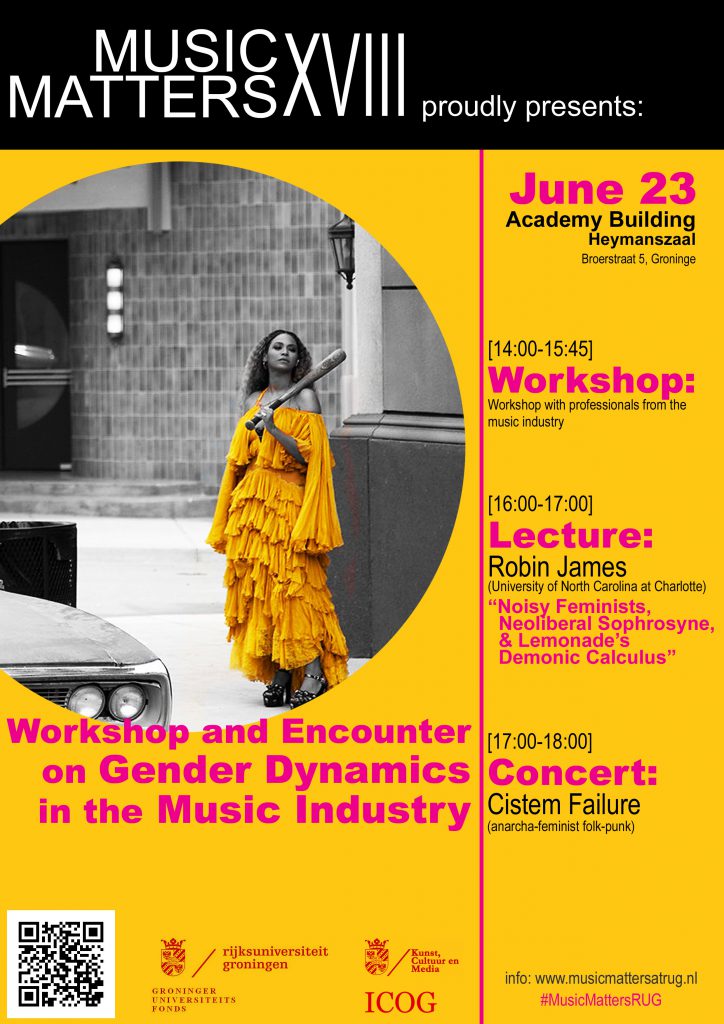 Panelists Workshop:
Kelsey Coockson
Kelsey Coockson started her career in music with an internship at Caro Emerald's label Grandmono. After that, she became an editor and talent scout at NPO 3FM, searching for gifted musicians that could be crowned '3FM Serious Talent', strengthening their musical spines with support of the radio station. She then left to finish her Bachelor in Musicology at the University of Amsterdam. After graduating, she came to work as an A&R/Creative Manager at Universal Music Publishing Benelux (UMPG). Having had many mentors in the music industry who gave her the chance to flourish under their wings, she's now leaving the major publisher to pursue her dreams as an artist, start her own business and hopefully inspire young women to take a stand for themselves while coping with the music industry.
Marjan Wynia
Marjan Wynia has worked as a marketing & communications manager in the creative industries for many years. For the last 11 years, she has worked for the GRAP foundation, an organization dedicated to helping talented music artists, and she has worked as a freelance copy writer. She also co-founded female network organization Chicks in the Bizz and is researching the gender dynamics in the music industry. ​
Tamar Tieleman

Tamar is Radio DJ and Voice Over for several channels and brands. As a DJ she has worked for Amsterdam FM, KX RADIO, 3FM, NPO Radio 1 and NPO Radio 2 & NPO Soul and Jazz. Her voice over skills have been used for brands such as Microsoft, The Pill Reminder and De Heus. In addition, Tamar is the host of many music contests and festivals such as De Grote Prijs van Nederland, Hemelbestormers, Amsterdamse Popprijs, Art Rocks, Dutch Valley Festival, Amsterdam Woods Festival, Eurosonic Noorderslag Festival and Amsterdams Bevrijdingsfestival
Keynote Lecture:
"Noisy Feminists, Neoliberal Sophrosyne, & Lemonade's Demonic Calculus"
Anne Carson's "The Gender of Sound" studies the women of classical Greek literature. They are presented as "a species given to disorderly and uncontrolled outflow of sound."Emphasizing the relationship the Greeks drew between sonic harmony and social harmony, Carson's analysis of gendered sounds hinges on the concept of sophrosyne, i.e., "the masculine ideal of self-control," of which "verbal continence is an essential feature." Updating the concept of harmony upon which sophrosyne is based to reflect 21st century acoustics rather than Pythagorean geometry, I argue that neoliberal post-feminism uses sophrosyne to police the behavior of women. White post-feminist noise maintains a harmonious society, one tuned to synthesize the range and variability of noisy interactions from which white supremacist patriarchy will reliably emerge as signal. Conversely, those who call out systemic sexism and racism are accused of the same flaws attributed to overcompressed music: invariant loudness. I conclude by contrasting sophrosyne with Katherine McKittrick's concept of deomonic calculus. Unlike sophrosyne, which is an organizing principle designed to forsee the future, the demonic is an organizing principle that abandons the relations of subordination that make statistical forecasting and homo economicus's predictability rational in the first place. I will show several ways the music in Beyonce's Lemonade uses demonic calculus to craft an alternative, asophrosyne femininity.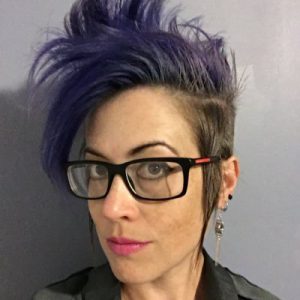 Bio
Robin James is Associate Professor of Philosophy at UNC Charlotte. She is author of two books: Resilience & Melancholy: pop music, feminism, neoliberalism (Zer0, 2015), and The Conjectural Body: gender, race and the philosophy of music (Lexington Books, 2010). Her current book, The Sonic Episteme: acoustic resonance and post-identity biopolitics, is under contract with Duke University Press. Her work on feminism, race, contemporary continental philosophy, pop music, and sound studies has appeared in The New Inquiry, Noisey, SoundingOut!, Hypatia, differences, Contemporary Aesthetics, and the Journal of Popular Music Studies. She is also a digital sound artist and musician. She blogs at its-her-factory.com.
Concert by Cistem Failure
To round the day and event series for this year off, the Anarcha-Feminist-Folk-Punk band Cistem Failure will perform at 17:00. The location will be announced soon.
This event is sponsored by the Groningen University Fund, the ICOG, the Arts, Culture and Media department and the Center for Gender Studies.