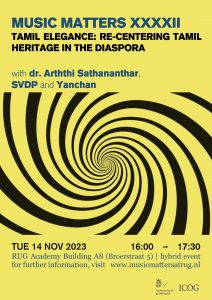 We are excited to announce the next edition of Music Matters, entitled "TAMIL ELEGANCE: RE-CENTERING TAMIL HERITAGE IN THE DIASPORA", which will take place on 14 Nov 2023, from 4pm-530pm, in the A8 Academy Building.
Abstract: The Sri Lankan civil war (1983 – 2009) resulted in the ethnic cleansing of Tamil people as well as one of the mass refugee crisis in the twentieth century. The ethnoreligious divide between the Sinhala Buddhist majority and the Tamil Hindu minority continues to this day through the erasure of Tamil heritage and identity in the state via the destruction of Tamil memorial sites in Tamil Eelam (North Sri Lanka). Nearly twenty years since M.I.A. (Mathangi Arulpragasam) carved her own space internationally with her infusion of Tamil folk music and political messaging on Sri Lanka, there is a burgeoning music scene from the diasporic Eelam Tamil community in which themes of displacement, dispossession and exile are at the forefront. Canadian artists SVPD and Yanchan pay homage to their homeland while also forging a sense of communal belonging by performing their diasporic identity through their music. This panel, in conversation with the aforementioned artists explores how Tamil Eelam heritage is mediated sonically to uncover how the remembered past affects the present. Where memorial sites are threatened or erased, we can look for alternative routes of memorialization through sonic reconstructions of home. SVDP and Yanchan's music is a necessary thread to sustain relationships across diasporic Eelam Tamil communities located across the globe.
Speakers:
SVDP is a Tamil Canadian rapper and director from Toronto, Ontario. SVDP released his debut album 'Saviours' in 2016 and is part of the Toronto based artist collective, sideways with Coleman Hell, La+ch, Mad Dog Jones, and Michah. His artistry is influenced by Tamil and classical South Indian music. Critics have dubbed him the Karnatic rapper.
Yanchan Rajmohan (Yanchan) is a Tamil Canadian artist, producer, and mrithangamist (South Indian hand drummer) from Scarborough, Toronto. Known for incorporating South Indian elements into his production work, Rajmohan creates Karnatic hip-hop fusion tracks. Most recently, Yanchan featured on the rapper Russ' track 'The Wind' on the album 'Santiago'.
Dr. Arththi Sathananthar is Lecturer at the Faculty of Arts at the University of Groningen and Visiting Scholar at the School of English, University of Leeds. Her research is positioned at the intersection of life writing and post/decolonial studies with a focus on diaspora, transculturalism, and home. Her research highlights narrative lives of the marginalized and dispossessed by creating an archive of diasporic heritage and identity.
We look forward to seeing you there!