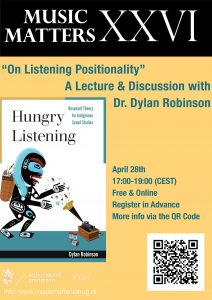 Please Note: This meeting will occur on Google Meets via the following link:
meet.google.com/gna-cepz-fee
Participants attending from University of Groningen gmail accounts do not need to register in advance.
All others are welcome but need to register in advance
by sending an email to c.j.tonelli@rug.nl with their first name, last name, and screen name (if different from actual name) and the subject line "Register Music Matters Robinson Talk" or the hosts may not admit them to the meeting.
The Music Matters Performance and Lecture Series of the Music, Sound, and Media Culture area of the Arts, Culture and Media program at The University of Groningen in The Netherlands is excited to present a discussion with Dr. Dylan Robinson, Canada Research Chair in Indigenous Arts at Queen's University.
In order to approach the crucial work of decolonization, it is necessary to consider how we perceive—how we see, hear, and sense—the materialization of colonialism in institutional and more quotidian daily structures of relation. Within a context of settler colonialism, some of these forms of perception are practiced through what I have called hungry listening, a collection of extractive listening practices derived from the word xwelítem (starving person) that xwélmexw (Stó:lō First Nations) use to describe settlers past and present. Yet hungry listening is only one of many forms of perception guided by positionality. It is one listening positionality among many that that are in flux, and always shifting in relationship to that which is listened to, and the site of listening. Developing practices of critical listening positionality, I argue, requires that we increase our awareness of how race, class, gender, ability, cultural background and sexuality guide our listening capacities, habits and biases. This presentation considers how we might further develop our reflexive awareness of how positionality (in its intersectional recombinations) affects listening, and how we balance awareness of our positionality with the attentiveness of close listening itself.
Dylan Robinson is a xwélmexw (Stó:lō/Skwah) artist and writer, and the Canada Research Chair in Indigenous Arts at Queen's University. His monograph, Hungry Listening (Minnesota University Press, 2020), considers listening from both Indigenous and settler colonial perspectives, and proposes decolonial practices of attention that emerge from increased awareness of our listening positionality. Dr. Robinson's current research focuses on artistic practices of reconnection between Indigenous songs and members of communities who were prohibited by law to sing them as part of the Canadian Government's Indian Act from 1882‒1951. His previous publications include the co-edited volumes Music and Modernity Among Indigenous Peoples of North America (2018) and Arts of Engagement: Taking Aesthetic Action in and Beyond the Truth and Reconciliation Commission of Canada (2016).