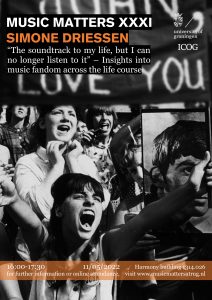 Please note: this lecture will occur both online via Google Meets and in-person in RUG Harmony Building, room 1314.026. Use this link to join the digital meeting. Those entering the Google Meets session from University of Groningen accounts need not register in advance – all others should register via this link.
The Department of Arts, Culture and Media invites you to the fifth Music Matters event of  the 2021/2022 Lecture Series. For this talk we invite dr. Simone Driessen. This event takes place on May 11th, from 16:00 to 17:30. 
Does that favorite song from your youth still hold the same meaning today? In this presentation, I draw on various studies conducted across the past few years on the role of music fandom in one's life course. Typically, we expect one grows out of their childhood or teenage interests once one becomes older. Yet, in today's cultural industries nostalgia and revivals seem to be a business model. Furthermore, due to increasing access to our favorite stars, audiences also learn more about their idols than perhaps ever before. This brings along and invites for reflections on these revelations, changes, and insights. This presentation aims to contextualize and challenge such changes in music fandom across the life course. It does so by looking at long-term fans and their reasons to remain fan (like fans of the Backstreet Boys or Doe Maar), but also offers a perspective at why fans decide to discontinue their fandom (like those of Taylor Swift or Marilyn Manson). Discussing these topics, this works presents an understanding of the role of music fandom across the life course.
Simone Driessen is a lecturer and researcher in the Department of Media & Communication at Erasmus University Rotterdam. She obtained her PhD in 2017 in which she examined long-term music fandom. Currently, she explores why fans decide to stop being a fan, after e.g., their favorite star was cancelled or caught in a controversy. Simone published several book chapters and articles on music fandom, in i.e. American Behavioral Scientist, Participations, and the Journal of Fandom Studies.