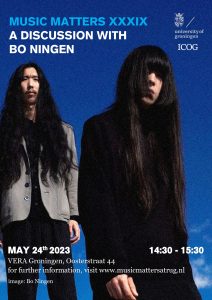 Music Matters at RUG will continue their artist discussion series in partnership with VERA on May 24 with a public interview with Japanese noise rock group Bo Ningen.
This event takes place at VERA Groningen (Oosterstraat 44, 9711RT) on Wednesday May 24 from 14:30 until 15:30, ahead of Bo Ningen's performance at the venue that evening.
Formed in 2006, the now London-based four piece has consistently negotiated the aesthetics of noise and groove based rock music, collaborating with pioneering musicians such as Faust and Can's Damo Suzuki. Cultural exchange is a returning motif throughout their music, both in studio and on stage, tying into a long tradition of transnational exchange in Japanese popular music. In this dialogue, we will dive into these issues of cross-cultural music making and noise, focusing on how being a Japanese rock group in Europe has affected their approach to music making, their cultural identity, and the perception of their music by both Japanese and Western audiences.