The Department of Arts, Culture and Media invites you to the fourth Music Matters event of  the 2018/2019 Lecture Series. In collaboration with this years KIEM project, we invite L.J. Muller to give a lecture on sound and gendered performances in popular music.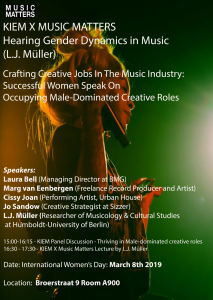 "Hearing Gender Dynamics in Music? Feminist Approaches to Popular Music Analysis"
Time: 16:30 – 17:30
Location: Broerstraat 9, room A901
Free of admission – No registration required
Click HERE for more information!