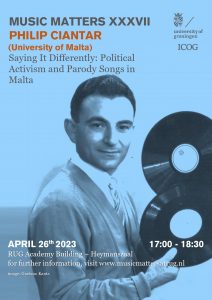 The Music Matters at University of Groningen Performance and Lecture Series invites you to "Saying It Differently: Political Activism and Parody Songs in Malta" with Philip Ciantar (Department of Music Studies, School of Performing Arts, University of Malta). This 37th talk of the series takes place at the Heymanszaal in the RUG Academy Building from 17:00 until 18:30 on Wednesday April 26th, 2023. For further information on this talk, see the abstract below.
The use of parody songs in politics, especially in electoral campaigns, is widely considered to
be an effective means by which political messages are transmitted in a way which is familiar,
accessible, enjoyable, and appealing. The present paper scrutinises the value and use of parody songs in Maltese politics by focusing on three examples derived from the Maltese popular music repertoire. Scrutiny of these examples is set against snapshots from Malta's political history most relevant to each. The discussion commences by considering a number of political parody songs by the then popular Maltese singer Gaetano Buttigieg (1923-2004), also known at that time as Gaetano Kanta. Buttigieg's political parody songs examined here were concerned with the politico-religious conflict of the early 1960s between the Maltese Catholic Church and the Malta Labour Party as well as with the electoral campaigns that were held in Malta around the same time. The historical context complementing these initial examples then serves as a background for the discussion related to parody songs from the environment of għana (Malta's folk song) which offer a contrasting perspective to that of Buttigieg. Subsequently, the discussion then passes on to focus on a political parody song from the years leading to the 1987 general election and the use of popular tunes from local festive band marches for that purpose. In order to provide further insights into what these songs meant and how they were made to mean in their respective social and historical context the discussion will also consider some related aesthetic perspectives most relevant to each example.