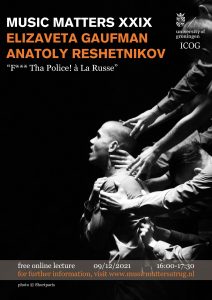 Please note: this lecture will occur online via Google Meets. Use this link to join. Those entering from University of Groningen accounts need not register. All others should register in advance via Google Forms via this link.
The Department of Arts, Culture and Media invites you to the third Music Matters event of  the 2021/2022 Lecture Series. For this talk we invite Elizaveta Gaufman and Anatoly Reshetnikov. This event takes place on December 9, from 16:00 to 17:30. 
"F*** tha police! á la russe: Rancière and the metamodernist turn in contemporary Russian music"
Politically-minded oppositional artists and musicians gained nationwide prominence in Russia at least a decade ago. Their rise has inspired a fair number of studies analyzing the political aspects of their creative output. We argue that today one can witness a new and potentially more powerful iteration in the Russian politics of art, which brings political confrontation to a qualitatively new level. Following Jacques Rancière, we reject the assumption that critical art can bring about political mobilization by exposing social evils. Instead, we juxtapose politics and police, distinguishing between transformative moments of discursive confrontation and the mundane activity centered on distributing places and roles. In this article, we look at three popular Russian musical collectives – IC3PEAK, Shortparis, and Monetochka – whose art disrupts the police order in the most novel, interesting, and subversive manner. We have performed multimodal discourse analysis of their audio and video clips, aimed at identifying the ways in which these artworks create the conditions of possibility for new politics by re-articulating the connection between the political and the universal.