Please note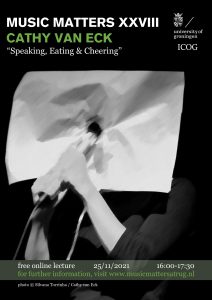 : this lecture will occur online via Google Meets. Use this link to join. Those entering from University of Groningen accounts need not register. All others should register in advance via Google Forms via this link.
The Department of Arts, Culture and Media invites you to the third Music Matters event of  the 2021/2022 Lecture Series. For this talk we invite composer, sound artist and sound researcher Cathy van Eck. This event takes place on November 25, from 16:00 to 17:30. 
"Speaking, Cheering and Eating: Sonic Transitions in Performative Sound Art"
In this talk, Van Eck will look at how she uses several everyday actions as a starting point for her performances and installations. It is easy to imagine the sound of someone biting an apple. But eating an apple evokes many associations. In her work, Van Eck try to evoke these associations and to connect them with each other sonically. Sometimes the result almost becomes music, at other moments everyday sounds arise just in a slightly different context than usual. Van Eck controls these sounds with everyday gestures such as eating an apple, speaking in a microphone or positioning chairs. Sensors or microphones are used to detect her movements and thus create a connection between physical and sonic gestures. The result is a narrative that does not consist of words, but that Van Eck can only tell with sounds, gestures and objects.