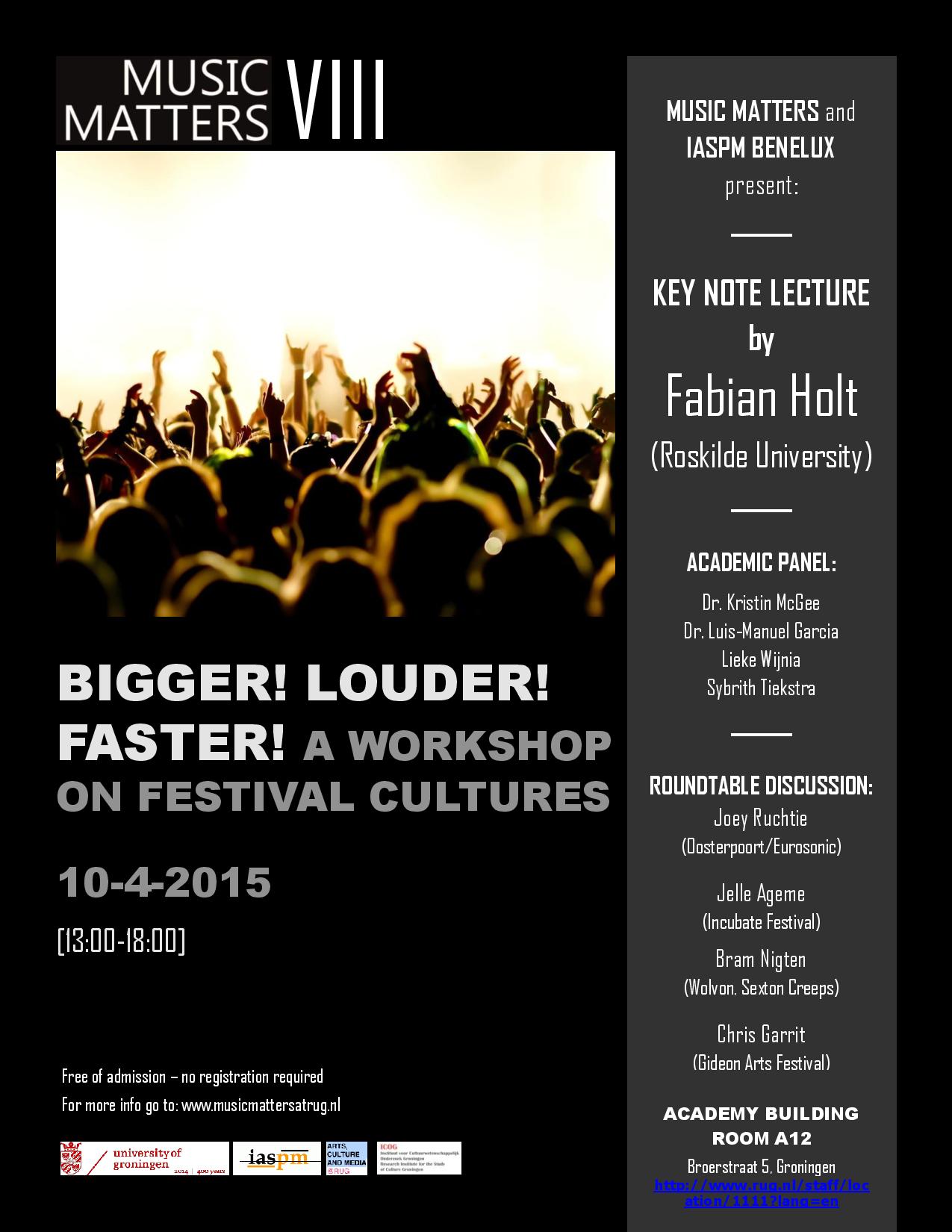 Music Matters Study Day 2015: Music Festivals and Music Cultures
April 10th, 2015, University of Groningen, 13:00-18:00
Welcome to the 2015 edition of Music Matters at the University of Groningen. This year ICOG, IASPM Benelux and the Arts, Culture and Media Department feature three lectures related to music and culture beginning in the month of April and continuing into May and June. Our first edition offers a study day on the theme of music festivals and their influence upon local music cultures. We will hear presentations about a variety of music festivals from jazz and EDM to heavy metal and sacred music as well as engage in a discussion with professionals from the live music and festival world. Fabian Holt, Professor of Media and Performance Studies from the University of Roskilde will provide the keynote on:
How Music Festivals Evolve into Pop Culture Events: A Sociological Argument
Music Matters: Performing Music through Culture is a concert and guest lecture series organized by KCM (The Arts, Culture and Media Department), and ICOG (The Groningen Research Institute for the Study of Culture) of the Rijksuniversiteit Groningen together with KVNM (The Royal Society for Music History of the Netherlands). This series seriously considers live music as a central facet of comtemporary life, especially as musical phenomena engender forms of cultural identification, group affiliation and the creative expression of profound emotions. It looks in particular at the intersections between arts practice and scholarly research and therefore it offers not only a series of intellectual discussions on important research themes, but also features monthly lunch-time concerts given by professional, established performers from the Groningen area and from the Netherlands. Each edition will focus on a specific theme related to the world of music practices and arts communities. Both local and international scholars will offer insight and expertise on subjects related to live music such as music festivals, the aesthetics of improvisation, performing gender and race through music, and music revivals. These issues will be addressed through lectures, workshops and presentations.