The Department of Arts, Culture and Media invites you to the third Music Matters event of  the 2018/2019 Lecture Series. This talk will be on the topic of music tourism and will take place on February 22nd.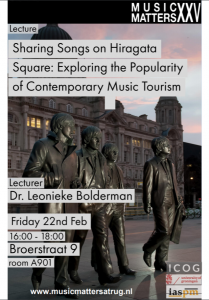 At 16:30 we host Dr. Leonieke Bolderman (University of Groningen) for a lecture on the topic of:
"Sharing Songs on Hiragata Square: Exploring the Popularity of Contemporary Music Tourism"
Website: www.musicmattersatrug.nl
Time: 16:00 – 18:00
Place: Broerstraat 9, Room A901
Free of admission – No registration required
Click HERE for more information!